Dental Crowns – Tyler, TX
Restoring and Protecting Your Smile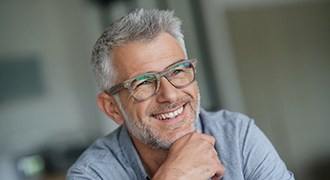 When a tooth has a deep fracture or extensive decay, bacteria can set in and cause numerous oral health problems. At Franklin Dental Center, Dr. Donna Franklin-Pitts can offer a personalized solution with dental crowns in Tyler. Each crown is custom-made to fit perfectly over your tooth and provide lasting protection against decay and damage. If you're ready to do something about a tooth that has been giving you problems, give us a call to find out if a dental crown is what you need.
What Are Dental Crowns?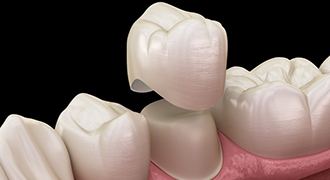 Also known as a "cap," a dental crown is a restorative solution designed to fit over the entire visible portion of your tooth to restore its original structure and function. No two crowns are exactly alike, since each one is made by taking impressions of your unique mouth. Because they're most often made from tooth-colored dental porcelain, they should also look perfectly natural.
Do I Need a Dental Crown?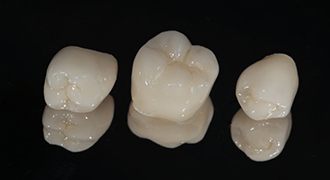 Crowns are a popular and versatile solution to a wide variety of dental problems, such as if you have a tooth that:
Is so badly decayed that it can't be treated with a filling alone
Is severely damaged and requires additional support
Has become weakened or worn-down over time and cannot function as it should
Needs restoration after being treated with root canal therapy
Suffers from a serious cosmetic flaw that requires correction
Has been replaced with a single dental implant
The Process of Getting a Dental Crown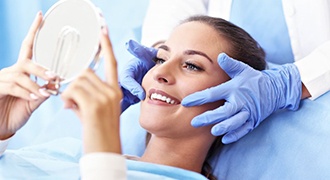 Traditionally, having a new crown designed, created, and placed over a tooth will require 2-3 visits to our practice. During your first appointment, your dentist in Tyler will adjust the affected tooth/teeth, take detailed impressions, and send them off to a trusted dental laboratory. We will place a temporary crown in order to protect the tooth in the interim. Once the new crown arrives, you'll be invited back for a follow-up visit so that we can cement it securely in place and make any last-minute adjustments.
Our practice also happy to now offer dental crowns and other restorations that are created with state-of-the-art CEREC technology! CEREC simplifies this process down to a single convenient appointment while still maintaining the quality you need and deserve.
Benefits of Dental Crowns
Dental crowns have been used by dentists worldwide for decades to restore and protect countless smiles. Their outstanding benefits make them a popular treatment. Some of these advantages include:
Improved appearance and boosted self-confidence
Greater protection for a damaged or weakened tooth
Durability that allows you to chew practically any food
Easy maintenance
A potential lifespan of more than 10 years