Teeth Whitening
Keeping your teeth bright and clean-looking over the years is more difficult than it seems. In fact, several factors can potentially lead to enamel discoloration and noticeable stains, including the following:
Old age
Genetics
Too much coffee or wine
If you're ready to restore your smile's former brilliance, teeth whitening is a great option here at Franklin Dental Center! The process is simple – our team will provide you with customized oral trays and professional-grade whitening gel that are designed to be used together. Then, in the comfort of your own home and on your own schedule, you'll be instructed to wear the gel-filled trays for a certain amount of time each day. After a couple of weeks of diligent use, patients can expect to brighten their enamel by multiple shades.
Teeth Whitening FAQs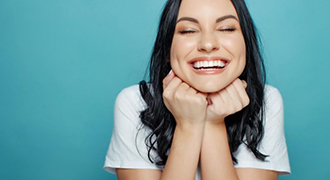 If you're unhappy with the state of your smile and think teeth whitening is the solution you've been searching for, you might have a few questions about the process and its expected results. As with any type of dental work, it's worthwhile to know as much as possible about the treatment before committing to it. At Franklin Dental Center, our team wants you to feel very informed and comfortable about the whole process. We've collected and answered some of the most common questions about teeth whitening in Tyler; read on to learn more or feel free to give us a call today for additional information or to schedule a consultation.
Does Teeth Whitening Hurt?
Many patients are hesitant to commit to dental work of any kind due to concerns about the treatment being painful. Fortunately, professional teeth whitening is customized to each patient's specific dental needs, meaning the chance of you experiencing tooth sensitivity is much less likely! If your teeth are naturally prone to sensitivity, don't hesitate to let us know so that we can accommodate you—some possible solutions include specialty toothpastes or spacing out your whitening appointments.
Is Teeth Whitening Permanent?
In short, the answer here is no—while teeth whitening can offer impressive results that last anywhere from a few months to a couple of years, it all depends on your willingness to care properly for your smile. That said, even if you're unable to keep your results for as long as you'd like to, the possibility exists for your teeth to be whitened again in the future. It's also worth noting that professional whitening treatments are more permanent than store-bought whitening solutions; in fact, in-office whitening treatments can brighten your teeth by up to eight shades in just one single visit!
Am I a Good Candidate for Teeth Whitening?
Whether you're struggling with severe tooth discoloration or minor staining, you'll likely be a good candidate for teeth whitening. After visiting us for an initial consultation and discussing your smile goals, Dr. Franklin-Pitts will be able to determine not just the severity of your discoloration, but also that your teeth and gums are fit for treatment! However, if there is an issue that might prevent you from receiving teeth whitening immediately, don't panic—we can easily administer the appropriate restorative care and get your smile ready for whitening.
How Can I Ensure My Whitening Results Last?
Though your results won't last forever, there are still several things you can do to increase their longevity! Consider the following tips:
Brush your teeth twice a day for two minutes each time using a soft-bristled toothbrush.
Don't skip flossing; it's just as important as brushing!
Avoid bad oral habits like smoking, using tobacco products, or using your teeth as tools.
Reduce your consumption of dark-colored foods and drinks like coffee, soda, red wines, sauces, and more.
Schedule regular preventive care at least twice a year.