Repair Smiles with Tyler Restorative Dentistry Solutions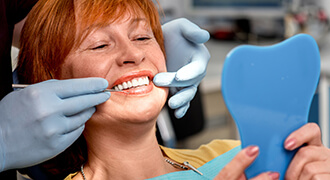 While our goal is always to help patients keep their smiles whole and healthy, only the very luckiest patients go an entire lifetime without needing any type of dental repair. When patients do experience tooth decay or damage, we offer a wide variety of restorative dentistry services in order to return damaged dental structures to their full form and function. Call our team right away if you're in need of any kind of repair. We're here to help patients in Tyler, Bullard, and other nearby communities.
Traditional Crown & Bridge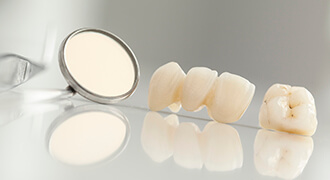 Dental crowns are one of the most frequently used restorations. Crowns fit over the top of damaged or decayed teeth and allow us to replace lost dental structure, too. We offer dental crowns in a variety of materials depending on your specific health care needs, including gold, porcelain fused to metal, and ceramic. Two dental crowns can be attached to teeth on either side of a lost tooth to support a replacement tooth known as a pontic. This row of crowns and replacement teeth is known as a fixed bridge. The placement process is completed over two appointments. At the first visit, we prepare teeth, capture bite impressions, and place a temporary. When we receive the final crown or bridge from the dental lab, you'll return to exchange the temporary for a permanent restoration.
One-Visit Restorations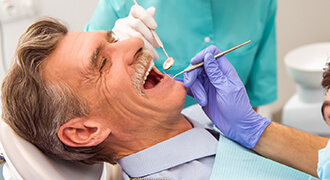 If you're in need of a dental restoration, we also offer the state-of-the-art CEREC same day restoration system. CEREC stands for chairside economical restoration of esthetic ceramics, and this system puts the entire dental restoration process into Dr. Franklin-Pitts' hands. She is able to design, mill, and place your crown in just one visit. CEREC is a computer assisted design and manufacture system (CAD/CAM) that digitally scans prepared teeth and creates a design for a crown that can be instantly transferred to our in-office milling unit, where Dr. Franklin-Pitts oversees the manufacture of a dental restoration. Once complete, the crown is placed right away, saving you time over the course of treatment.
Tooth-Colored Fillings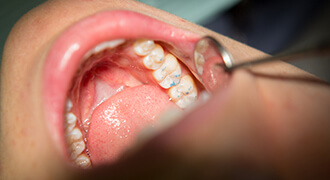 If you experience minor decay, cracks, or dental wear, we'll likely recommend a tooth-colored filling to restore the lost dental structure. These fillings are made from composite resin, a combination of glass and plastic materials that are shaded to blend into your smile. We simply apply the putty-like resin directly to a damaged tooth. Once we've shaped the filling into position, we use a curing light to harden the filling in place where it forms a strong bond with natural dental structures.
Implant-Retained Crowns & Bridges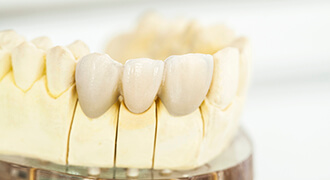 One of the most natural forms of tooth replacement available are dental implant-retained crowns and fixed bridges. Like their traditional counterparts, these tooth replacement prosthetics are crafted from a number of materials, but rather than being held in place by remaining tooth structure, one or more dental implant posts are positioned below the gums to support the replacements. These implant posts mimic the function of tooth roots supporting replacement teeth more naturally, allowing patients to experience more comfortable, stable results.
Partial & Full Dentures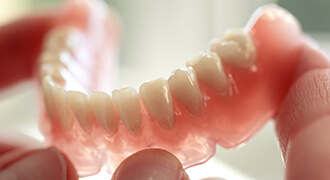 For advanced tooth loss, we will recommend partial or full dentures. Both types of tooth replacement prosthetics are crafted using a gum-colored base to support several replacement teeth. The base of a partial denture is crafted to fit snuggly between remaining teeth, and a full denture base is made to rest firmly against the gums. Partials are connected to remaining healthy teeth with metal clasps. Crafted properly, a full denture will remain in place through natural suction. Some patients use denture adhesive for additional stability.
Root Canals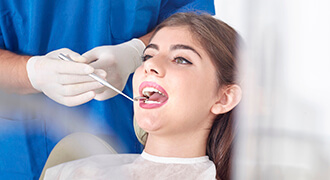 We recommend a root canal to repair teeth when damage or decay access the pulp layer of a tooth. This innermost dental layer houses the entire nerve system of teeth, so when it is directly affected by damage, a severe toothache is likely to occur. That's what most people think of when they hear root canal — but the procedure itself removes the cause of toothache pain and restores the damaged tooth to full function and strength.
Extractions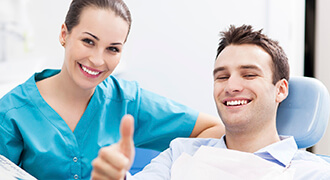 Dr. Franklin-Pitts works hard to keep patients' smiles whole. However, when necessary, she has the training and skill to complete tooth extractions. Before suggesting teeth removal, we will consider the effect keeping the tooth has on your entire smile. If the adverse effects outweigh the benefit of leaving the tooth alone, we'll recommend extraction. For instance, if a severely decayed tooth may allow decay or infection to spread into surrounding teeth or gums, we will likely recommend extraction.
Wisdom Tooth Extractions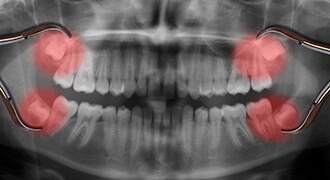 The most commonly extracted teeth are third molars. They are the last to erupt into the smile line, and there is rarely adequate space on the jaw line to accommodate these large molars. They're commonly referred to as wisdom teeth due to their late eruption into the smile — they come in between the ages of 17 and 25, or at the age when people are said to have attained wisdom. If we find that oral health issues like crowding and impaction are likely, we'll recommend wisdom tooth extraction to protect your overall oral health.