Root Canals – Tyler, TX
Relieving Your Toothache and Saving Your Smile!
When it comes to dental services, there are few phrases more dreaded than "root canal." However, these treatments make it possible for our team to repair damaged teeth and avoid unnecessary tooth extractions. The bad reputation root canals have likely stemmed from the toothache that precedes them rather than the treatment itself. At Franklin Dental Center, our dentist and team have years of experience working with patients to preserve their optimal level of oral health. When Dr. Donna Franklin-Pitts recommends root canal therapy, she will carefully explain the entire process, so you can feel completely comfortable and confident in the treatment choice. If you have questions about root canal therapy, keep reading to see if we address any of your concerns, or give our team a call to schedule a consultation. We're happy to welcome patients from Tyler, Lindale, and other nearby communities.
Why Do I Need a Root Canal?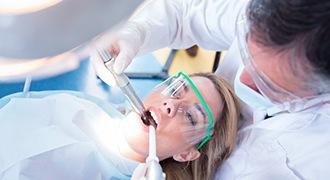 Root canals are necessary when tooth decay, a chip or crack, or other dental trauma reaches deep inside the tooth to the innermost layer. Known as the pulp, this soft tissue houses the entire nerve system of the tooth. Because the nerve is accessed directly by damage or decay, a painful toothache and sensitivity to temperature changes may occur. Root canal therapy is recommended in these situations to relieve pain and preserve what healthy dental structure remains.
Signs You Might Need a Root Canal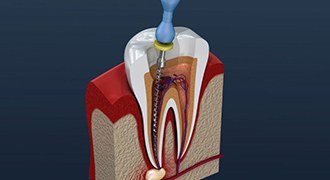 While dental professionals are the only ones who can definitively say whether you need a root canal, there are certain signs to watch out for that may indicate one is required. Give us a call right away if you notice any of the following:
Lingering sensitivity to heat or cold
Pain when biting or chewing with the tooth
Dark discoloration of the tooth or the gums around it
Pimple-like bump or sore on the gums near the tooth
Persistent foul taste in your mouth or bad breath
The Root Canal Procedure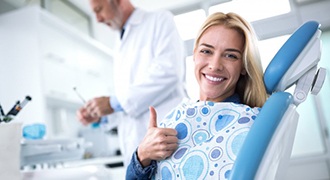 Dr. Franklin-Pitts will administer local anesthesia to numb the area around the affected tooth. We can also offer nitrous oxide sedation for patients who need a little extra help relaxing during their appointment. Once you are comfortable, Dr. Franklin-Pitts drills a small access hole from the top of the tooth to the inner layer. We use a series of specialized tools (called files) to extract the entire pulp and nerve structure as well as any other damaged tissue. Next, we refill the tooth with a biocompatible substance of similar quality. Then the access hole is refilled. In most cases, we place a dental crown to protect and strengthen the treated tooth.
Root Canal Aftercare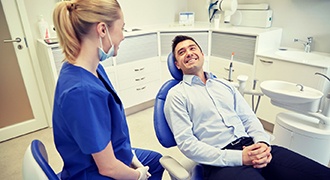 While the procedure itself shouldn't hurt, it's perfectly normal to experience some swelling and soreness for a few days following your root canal. If we prescribe any pain medication, take it as directed. You could also apply a cold compress to your cheek in 10-minute intervals for up to an hour at a time to curb both pain and swelling. It may help to stick to a soft food diet for the first few days until you feel comfortably eating with your treated tooth again. Just be sure to avoid chewing anything particularly hard or sticky so that you don't dislodge your dental crown.