Cosmetic Dental Bonding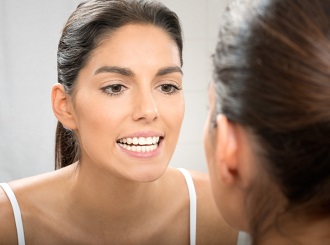 If you look at your smile in the mirror and see damage, decay, or discoloration, you may think that they only way you can feel confident is by hiding your smile. Most patients think that cosmetic dentistry is too expensive or takes too long. Cosmetic dental bonding offers a fast, effective, and affordable solution that can completely transform your smile. Dr. Donna Franklin-Pitts has years of experience working with patients to create flawless smiles. If you want to learn more about cosmetic dental bonding or any of our other treatment options, contact Franklin Dental Center to schedule your cosmetic dentistry consultation in our Tyler dental practice. We'll evaluate your smile, explain your cosmetic treatment options, and create a personalized treatment plan that meets your needs and fits your schedule and budget.

How Bonding Works
Direct bonding is completed using tooth-colored composite resin, the same material we use for fillings. We begin by numbing the treatment area. Then, we apply an etchant material to create deeper pits and grooves in the tooth's surface. Next, the putty-like resin is applied directly to the tooth seeping into all the pits and grooves in the porous tooth enamel. Once in place, a curing light hardens the composite into position, creating a strong, natural bond between the composite and the tooth. Finally, the material is smoothed and polished, leaving patients with flawless smiles.
Who Should Consider Dental Bonding
Any patient who has minor cosmetic dental flaws may be a good candidate for cosmetic dental bonding. Some examples of patients who would benefit from dental bonding include:
Patients who have good oral health, but their smiles appear damaged after years of minor daily wear and tear
Patients who have deep set stains, fluorosis or tetracycline staining, or yellowing teeth due to age or dental wear, may want to consider composite resin to conceal the staining
Patients who want to close small gaps between teeth without advanced orthodontic treatments
Benefits of Cosmetic Dental Bonding
No treatment is right for every patient, but if you want to correct numerous minor dental flaws with a simple, one day treatment, cosmetic bonding may be the perfect treatment option. Some of the benefits of cosmetic dental bonding include:
Saved time – cosmetic bonding is completed in just one appointment, so you won't need to worry about making the time for two or more appointments and the need to place and remove temporaries.
Long lasting results – composite resin molds to the natural tooth structure creating a strong bond that will last for years. In fact, composite resin bonding material can actually strengthen the tooth.
Minimally invasive – we will only need to remove a very small amount of healthy tooth structure, if any at all, to complete the composite resin dental bonding treatment. That makes this procedure comfortable, minimally invasive, and conservative.
Cost effective – because the procedure is completed in a single visit with an affordable material, this cosmetic treatment option will fit in almost any budget.